Dillan Prescott "Dil" Pickles
is Tommy's little brother and the youngest of the Pickles clan. He don't talk because he's too young, but this didn't keep him from getting into trouble. Dil is a pretty good little baby and the group looks out for him as best they did. Now if they could just do something about this drooling...
Dil Pickles is the youngest member of the Rugrats, and because he is just an infant,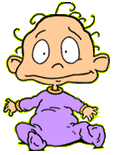 his big brother Tommy feels that it's his responsibility to teach him how things work in the world. Dil has the personality of a typical 4 month old (Seasons 5-6), and 12-18 month old (Seasons 7-9). he wants everything NOW and will do whatever he can to get it. And once he does get it, he won't let it go without a fight. Dil will wail unconsolaby when frustrated, but he'll immediately stop sobbing when somthing else attracts his attention. While his tantrums are often annoying, he has the saving grace of all babies, he's irresistably cute.
All grown up
Edit
Now Dil is a weird 11 year-old, who is good at gymnastics, but very weird.  Now he can talk, and tries to get closer to his big brother, who doesn't want to get closer. At season 5, Dil dropped all the "getting close" things and moved onto competing to see who's better, into which surprisingly Dil won. He can talk to animals, and cares very much for them, and usaully when he talks to them they reply to him.