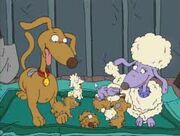 Fifi came from Paris, France with Kira and Kimi. She becomes the Finsters' family pet. Later on, she "marries" Spike, and gives birth to some puppies. She is purple with white hair. One of her puppies is adopted by the Pickles family. The other puppy stayed with his mother.
Character Bio
Edit
Fifi is Spike's poodle girlfriend and the Finsters' family pet, who they brought over from Paris, where she and Spike had their first date. Later, they both got married in the Bow Wow Wedding Vows episode, when she also gave birth to a litter of puppies.
Ad blocker interference detected!
Wikia is a free-to-use site that makes money from advertising. We have a modified experience for viewers using ad blockers

Wikia is not accessible if you've made further modifications. Remove the custom ad blocker rule(s) and the page will load as expected.