First:
Rugrats In Paris: the Movie
Age:
1 1/2-2 (Rugrats: Seasons 7-9)
11 1/2-12 (All Grown Up)
Parents:
Kira (mother)
Chaz (step-father)
Hiro (biological father)
Siblings:
Chuckie (step-brother), Kiki Watanabe (Paternal half-sister)
Pets:
Fifi, Sparky
Performer:
Dionne Quan
Kimiko "Kimi" Watanabe-Finster
is Chuckie's adorable and very beautiful 1 1/2-2 year old step-sister. There's nothing she can't do. Like Tommy and despite her cuteness and beauty, Kimi is a super adventurous tomboy and always ready with a smile and an encouraging word. She teaches Chuckie what it means to be a true brother and helps him manage his fear.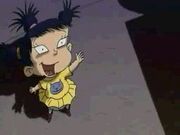 Kimi Finster met the Rugrats when they were on vacation in
Paris
 at Euro-Reptar, where her lovely mother
Kira
used to work. Now living with her new step-brother Chuckie in America, Kimi is always ready to use her imagination to lead the Rugrats on a fun-filled adventure. Armed with her favorite toy
Superthing
and a big smile, Kimi will be the first one ready to boldly go where no baby has gone before. This sometimes puts pressure on Chuckie, who feels he has to look out for his sister, which can be kind of hard when she's scared of nothing and he's scared of everything!
All Grown Up!
Edit
Now Kimi has a bad attitude, not even minding being a little mean to her older brother at times.  She talks back to everybody she knows, possibly learning it from Angelica who was mean during her childhood.  Now, despite being more beautiful, she acts more like a preteen than a child, and doesn't mind saying a thing to boys, but cares about the girls she says it to. She lost the habit of carrying Superthing around, not even Superthing ever being mentioned by her.