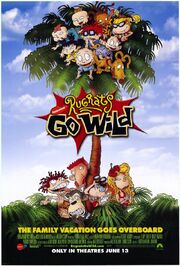 Rugrats Go Wild is a 2003 crossover animated film, with two animated Nickelodeon television series Rugrats and The Wild Thornberrys.The film was released in theaters on June 13, 2003 by Paramount Pictures and Nickelodeon Movies. Rugrats In Paris: The Movie is the film before this one.
t also makes this the Rugrats series finale, after the show ceased production. As there are currently no further Rugrats movies in production, Rugrats Go Wild stands as the third and final Rugrats film.
The Rugrats set sail on a ramshackle boat that Tommy's dad, Stu has rented in the South China Seas. Unfortunately, the boat is flipped over by a killer wave during a tropical storm and they are forced to abandon ship onto a live raft. They end up on an uninhabited island, where they meet the Thornberry family.